skip to content
WIC and Nutrition
FL Dept of Health in Pinellas - Main Contact Information - Phone Available 24 hrs/day
Announcements and Important Information 
WIC EBT is Here!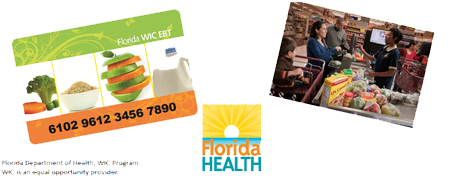 WIC Program Information  
WIC is a federally funded nutrition program for Women, Infants, and Children. WIC provides the following at no cost: healthy foods, nutrition education and counseling, breastfeeding support, and referrals for health care.
WIC stands for the Special Supplemental Nutrition Program for "Women, Infants and Children" (WIC). WIC is funded by the United States Department of Agriculture (USDA) and is administered in Florida by the Department of Health. Services provided by the Program include the following:
Healthy Foods
Nutrition Education and Counseling
Breastfeeding Support
Referrals for Health Care.
The Pinellas County WIC work closely with other agencies and DOH-Pinellas divisions such as:

Pinellas WIC operates from six main centers & one satellite.

WIC & Nutrition Program utilizes advertising and marketing strategies to reach those of you that may be eligible for the program. Currently, Pinellas WIC & Nutrition Program provides services to over 18,000 participants each month.

Each applicant must meet all Federal eligibility requirements. Benefits issued from all our sites are redeemable at our participating local vendors.
WIC Appointment Line: 727-824-6914 
Participation in WIC saves the public and private health care dollars by improving the health and nutrition of women, infants and children. WIC has been proven to improve the diets of pregnant and postpartum women and children. It has also been shown to reduce the incidence of low birth weight, infant mortality and anemia among WIC participants.
Who Is Eligible? 
You must be a pregnant Woman, or a woman who has recently been pregnant, a breastfeeding mother, an infant, or a child under five years of age.
You must meet certain income guidelines
You must live in Florida
You must have a nutrition-related need, which will be determined by WIC staff.
You could be eligible if you or other family members re currently receiving Medicaid, WAGES, or Food Stamps. However, you do NOT have to be on a public assistance program to qualify for WIC.
Before eligibility is completed, WIC staff will verify your Gross Household income. You need to bring proof of household income so that the staff can determine your eligibility.
WIC Express 
The WIC express is a faster way to check out when picking up benefits only. It is designed for participants who have completed all the required paper work to pick up benefits. The average check out time at these stations is about five minutes. This process saves our participants time, especially those who are working and may use part of their lunch hour to pick up their benefits.
Where to Get Certified for WIC and Pick Up Benefits
WIC EBT Shopper App
WIC Nutrition & Health Resources 
Breastfeeding and Lactation Consultation 
Breastfeeding services include:
Breast pumps
Prenatal Breastfeeding Classes
Lactation Consultation
WIC values and supports breastfeeding as the normal way to feed a baby. We have International Board Certified Lactation Consultants on staff. Education and support by one of our Breastfeed Peer Counselors is available at all of our health centers.
WIC offers a breast pump loan program to assist qualifying mothers in meeting their breastfeeding goals. Our breastfeeding staff will determine if you are qualified for a breast pump loan.
Prenatal breastfeeding classes are held throughout the county at various times of day and on Saturdays. WIC also has two Mom and Baby Groups that are a great place to meet other breastfeeding moms; prenatal moms are encouraged to attend.
Please complete the birthing plan to request hospital services to help you breastfeed.
Vaccinations Resources & Information 
WIC Non-Discrimination Statement  
The U.S Department of Agriculture prohibits discrimination against its customers, employees, and applicants for employment on the bases of race, color, national origin, age, disability, sex, gender identity, religion, reprisal, and where applicable, political beliefs, marital status, familial or parental status, sexual orientation, or all or part of an individuals income is derived from any public assistance program, or protected genetic information in employment or in any program or activity conducted or funded by the Department. (Not all prohibited bases will apply to all programs and/or employment activities.)
If you wish to file a Civil Rights program complaint of discrimination, complete the USDA Program Discrimination Complaint Form, found online at http://www.ascr.usda.gov/complaint_filing_cust.html, or at any USDA office, or call (866) 632-9992 to request the form.
You may also write a letter containing all of the information requested in the form. Send your completed complaint form or letter to us by mail at U.S. Department of Agriculture, Director, Office of Adjudication, 1400 Independence Avenue, S.W., Washington, D.C. 20250-9410, by fax (202) 690-7442 or email at program.intake@usda.gov.
Individuals who are deaf, hard of hearing or have speech disabilities may contact USDA through the Federal Relay Service at (800) 877-8339; or (800) 845-6136 (Spanish). USDA is an equal opportunity provider and employer.