Skip Global navigation and goto content
Left navigation requires javascript to be enabled in your browser.
Tobacco Prevention Initiatives
FL Dept of Health in Pinellas - Largo Center
 

Mailing Address

12420 130th Ave 

Largo, FL 33774  

 
Students Working Against Tobacco (SWAT)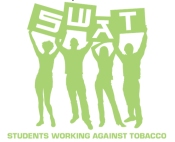 Students Working Against Tobacco (SWAT) is an organization with an active, involved membership of young people in middle and high school that provides a means for Florida's youth to develop and coordinate a unified assault on tobacco's sales pitch in their communities; encourages youth to become effective advocates and leaders in their communities; provides youth with "real life" experiences through planning, executing and evaluating tobacco prevention activities; and trains youth to be more effective in all endeavors they choose to undertake.
80% of smokers begin before the legal age of 18. SWAT chapter members are middle and high school students who are organized to fight the influences of the tobacco industry by exposing how the tobacco industry targets youth as perspective new tobacco users.
SWAT members educate students about the tobacco industry marketing and advertising tactics and train teens to fight them. They also work with local decision makers to create tobacco free policies to improve the health of our county.
For information on our Students Working Against Tobacco please call: 727-275-6241
Flavored Tobacco Products - The Family Smoking Prevention and Tobacco Control Act prohibited the sale of cigarettes which have a characterizing flavor other than tobacco or menthol. It does not restrict the sale of other cigars, smokeless tobacco products, shisha (used in hookah) or any other tobacco products. SWAT youth educate county and city government on flavored tobacco issues and encourage them to pass resolutions to restrict the sale of flavored tobacco products.
The Tobacco-Free Coalition of Pinellas County (TFC) 

The Tobacco-Free Coalition of Pinellas County (TFC), established in 1996, has continued to be an active voice for the community focusing on school and community tobacco prevention and control needs and interventions. It is the only collaborative body focused on tobacco prevention and control issues.
Tobacco-Free Coalition will be meeting on the following dates at 3:00pm-4:30pm:
August 6, 2019



November 5, 2019

February 3, 2020

May 5, 2020
The location of meetings is to be determined.
For information on the Tobacco Free Coalition of Pinellas County, please call: 727-275-6246 or email TFCPinellas@gmail.com.
Smoke Free Multi-Unit Housing 
Secondhand smoke can seep through lighting fixtures, cracks in walls, around plumbing, under doors, through shared ventilation, as well as permeate building materials, and then enter into apartments or condominiums from neighboring units. There is no safe level of exposure to SHS according to the 2006 U.S. Surgeon General's report. SHS poses both a health risk and a significant nuisance. The Tobacco Prevention Program encourages property owners to implement voluntary smoke free policies and supplies resources and tools to help.
For information on Smoke Free Housing please call: 727-275-6247
Tobacco Free Schools 
Tobacco is the leading cause of preventable death in Florida. Most tobacco use begins before the age of 18, so it is important that schools provide a safe and healthy learning environment free from exposure to known carcinogens, and one in which adults are role models for health behavior. As school district personnel and school visitors serve as role models to students, comprehensive school policies are a necessary strategy to prevent youth initiation as well as reduce tobacco use.
Comprehensive Employer Cessation Benefits 
Comprehensive tobacco use treatment can reduce barriers for smokers who want to quit. Seven out of ten adult smokers report that they want to quit completely. Employers have the opportunity to improve their workforce health, increase productivity and reduce their health care costs by providing cessation support for tobacco users.
For information on Smoke Free Workplaces places please call: 727-275-6247
It's mission is to create a tobacco-free atmosphere in Pinellas and to assist in doing the same for residents of the State; to improve the health of Pinellas residents and all Floridians by significantly reducing tobacco use; to eliminate the initiation of the use of cigarettes and smokeless tobacco among youth; to educate the public on health issues related to tobacco; and to act as an advocate for positive reform.