Skip Global navigation and goto content
Left navigation requires javascript to be enabled in your browser.
Volunteer Opportunities
Dept of Health in Pinellas County Volunteer Info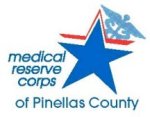 The Medical Reserve Corps (MRC) of Pinellas County is a locally-based group of volunteers who use their education, training and volunteer service to make their communities safer, stronger, and better prepared to respond to threats of terrorism, public health problems, and disasters of all kinds.

Volunteers are pre-identified, trained, prepared and ready to respond to a medical and or public health emergency. The MRC is sponsored through the United States by the Office of the U.S. Surgeon General and supported in Florida by the Florida Department of Health.
"I have been an active volunteer physician for the past 12 years.
There is nothing more rewarding than seeing appreciation from those I serve."
---Dr. A. Campbell, MD
Volunteer for Health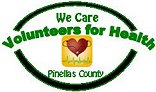 Volunteers for Health can transform both the volunteers who give time and those who receive it. Many people's lives have been touched by the special work of someone volunteering his or her time. Knowing that you are helping others in a way that cannot be measured in terms of monetary reward, but can be measured in terms of commitment, compassion and dedication to your community is a vital contribution.
We have many exciting fields for volunteers that range from office support to specialty care. We will help you find the right volunteer experience for you! Help us create a culture of care and good health in Pinellas County by volunteering. Please join us in making a difference in the quality of life of others.
Specialty Care Medically Licensed Volunteers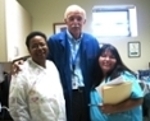 These volunteers include physicians, ARNP's and others who specialize in a focused area of medicine and can provide those services to people we serve in our primary care network. Medically licensed volunteers receive sovereign immunity and continuing medical education credits.
In the first year, specialty care volunteers provided services to 955 patients for a total of 526 physician hours and 3,660 support hours by non-physician volunteers. The value added to our community by volunteers was $115,823 for physician services and $78,703 for non-physician services.
"My volunteer status at the Florida Department of Health in Pinellas County has been a satisfying and pleasant experience.
I am continually impressed by the capable and compassionate Healthcare staff facing an ever-increasing number of needy patients who are uninsured."
--- Dr. John Gerber
Health/Wellness Class Volunteers 

These volunteers are lay health promoters, working in the community to educate people about prevention and healthy behaviors.
Medical Reserve Corps Volunteers 

The volunteers in this community based service can supplement emergency and public health services.
Find out more about The Medical Reserve Corps (MRC) and how you can volunteer to help your community in times of need!
Office/Program Volunteers 

Providing administrative support to those who provide direct care to clients served by the Health Department

Get Started Today!
Volunteering is easy!
If you just would like to get more information,
please contact us and we will be happy to discuss the program in more detail with you.
All you need to do is call 727-820-4125 and fill out a