Skip Global navigation and goto content
Family Planning
FL Dept of Health in Pinellas - Main Contact Information - Phone Available 24 hrs/day
Family Planning Program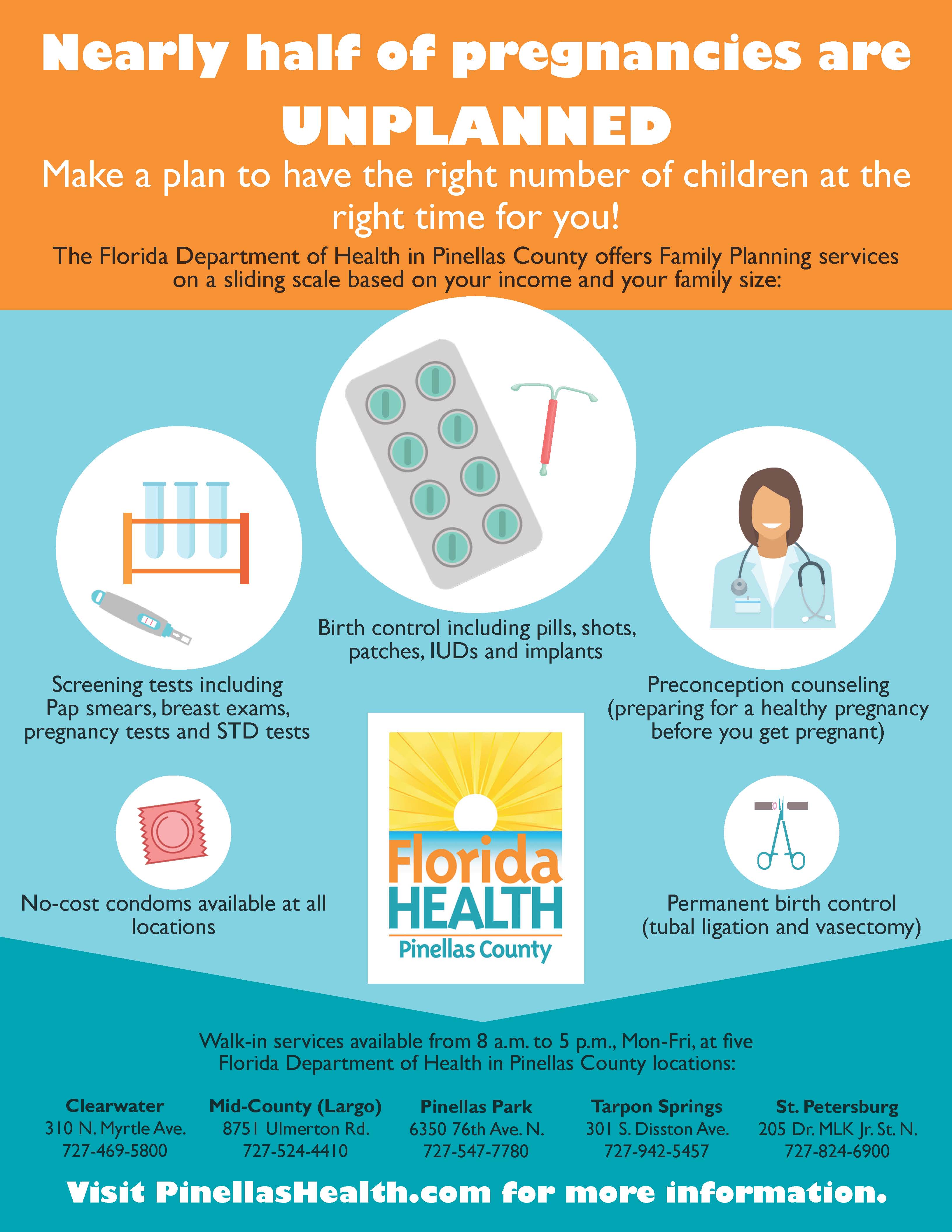 Family Planning is a program that offers you information to help you decide whether and when to have a baby. Information includes topics such as baby spacing, abstinence, avoiding sexually transmitted diseases or infections (STDs or STIs) birth control methods, and sterilizations (vasectomies). Family Planning Clinics are conveniently located at all of our clinic locations.
All Programs provide education, counseling, medical services including tubal ligations and vasectomies, referral and follow-up that will help individuals plan their family size.
Family Planning Services: 
Yearly Exams
Free Condoms
Birth Control Choices
STD Counseling & Treatment
HIV/AIDS Testing & Counseling
Pre-conception Counseling
Pregnancy Testing
Emergency Contraception Pill
Contact Information 
Our family planning clinics operate from 8:00 A.M. to 5:00 P.M. Monday to Friday. For more information, please call:
Family Planning Medicaid Waiver Program 
Under the Family Planning Medicaid Waiver Program, women are provided:
annual physical exams including a pap smear
birth control supplies
pregnancy testing if indicated
limited treatment for sexually transmitted infections
related medicines and lab tests
Who can sign up for this Program?  
Women who have lost full Medicaid coverage within the last 24 months.
To qualify for this special Medicaid program, a woman must:

want to have family planning services;
not be pregnant;
not have had a hysterectomy or tubal ligation (tubes tied);
have a household income less than or equal to 185% of the current federal poverty level;
provide proof of identity and U.S. Citizenship.

Women who think you may qualify for the program can download the application at the link below or contact the local county health department in your area for an application.
Applications and information about this program are available at county health departments, Healthy Start Program sites, Healthy Families Florida Program sites, and the Area Medicaid Offices.
How do I sign up for the Program?  
The Medicaid program will mail a letter and application to women who may qualify for services.
Women will be sent a letter at the end of their first year of coverage that will indicate a need to reapply for services.
Women interested in receiving these services, must complete one of the following applications:
(English, Spanish, or Creole)
Mail or bring the application to their local county health department. The application can be viewed and downloaded from the links above but can not be submitted electronically. You must print the document, complete it and either mail or take the application to your county health department.
Women who are interested in the program can contact the local county health department for the application mailing address or to schedule an appointment to review the application and find out if they qualify for the program.
Need more Information?  
If you would like more information about this special Medicaid program, please visit the Florida Medicaid program's website
Related Services