skip to content
GET FIT IN OUR ZONES
March 02, 2017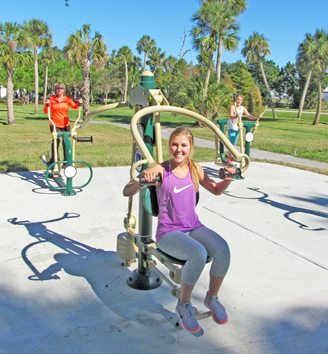 They're easy to use, effective, fun—and free!
More than a dozen Fitness Zones in city and county parks in Pinellas provide cardio and upper/lower body workouts on equipment that's people-powered. Some of the workout stations are designed for use by mobility-challenged adults, too.
One of the newest is at J.C. Weaver Park in Dunedin, where the city's fitness professionals selected the equipment and designed the layout. Cardio machines are on the north end and strength equipment is on the southern end.
Fitness Zones in Largo and Pinellas Park will open later in 2017.
From Tarpon Springs to south St. Petersburg, Fitness Zones can be used anytime parks are open during daylight hours. They're free and placards on each apparatus explain their use and which areas of the body they target. Circuit training is easier, as is combining a walk, run or ride to the Fitness Zone to combine cardio with strength workouts.
Fitness Zones are funded in part by a Centers for Disease Control and Prevention (CDC) grant that aims to improve obesity rates in communities around the nation. The Partnerships to Improve Community Health (PICH) grant awarded to the Florida Department of Health in Pinellas County is increasing opportunities for physical activity and healthy eating via several initiatives.
In addition to providing Fitness Zones in partnerships with cities and the county, PICH is also funding bottle-refill stations and Bike Fix-It stations in parks and trails. The bottle stations are permanent structures where it's easy to refill reusable drink containers; at fix-it stations, bike riders have access to tools and air pumps at no cost so they stay on the road longer.
PICH is also funding the Fun Bites initiative that helps youth sports concession stands add healthy food items to their menus. Items lower in fat, sugar and sodium are selected with technical assistance from the PICH staff. They're identified on menu boards with the Fun Bites logo, an orange slice. Families and young athletes can make healthy concession choices by selecting items marked with the Fun Bites to encourage better nutrition.
PICH also compiles listings of produce stands and farmers markets in Pinellas in a single publication to help residents and visitors find fruits and vegetables anywhere in the county.
For information about PICH initiatives,
click here
.
For Media Inquiries