skip to content
DON'T LET FOODBORNE ILLNESS BE AN UNWELCOME HOLIDAY MEAL GUEST
December 12, 2014
DON'T LET FOODBORNE ILLNESS BE AN UNWELCOME HOLIDAY MEAL GUEST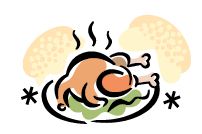 Holidays mean parties and parties usually mean lots of food. As we indulge in December celebrations, the Florida Department of Health in Pinellas County (DOH-Pinellas) reminds you not to let foodborne illness find a place at your holiday table.
Food—whether prepared in someone's kitchen, at a restaurant or at a catered function—should be handled safely so that bacteria isn't allowed to cause food poisoning. The U.S. Department of Agriculture offers these tips on how to protect yourself and your loved ones from foodborne illnesses such as botulism, salmonella and E.coli that can sometimes be severe enough to require hospitalization:
Keep raw meats, poultry and seafood away from other items in your grocery cart and kitchen counters.
Use separate cutting boards for meat and other food items.
Use a meat thermometer to make sure the internal temperatures of dishes mean they're fully cooked according to recommendations.
When serving, keep hot and cold foods at the correct temperature with chafing dishes, crockpots or ice trays.
Throw out any perishable foods left out for two hours or more. This also applies to items left out for second helpings or for later dinner guests.
Cutting boards, plates and utensils that have touched raw meat should be washed in warm, soapy water or in the dishwasher.
The USDA provides answers to food safety questions at its Meat and Poultry Hotline, 1-888-MPHotline (1-888-674-6854) or via chat at AskKaren.gov, available from 10 a.m. to 4 p.m., weekdays, in English or Spanish. For more information, go to http://www.fsis.usda.gov/wps/portal/fsis/topics/food-safety-education.
For information about DOH-Pinellas, go to http://pinellas.floridahealth.gov/.
Additional Resources
For Media Inquiries