skip to content
Paths To A Healthier Pinellas Conference
August 29, 2014
Help Create a Healthier Pinellas on September 10-11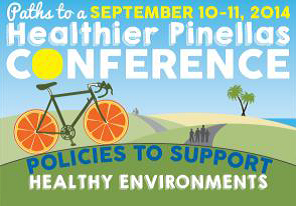 Take the first step at the free Paths to a Healthier Pinellas Conference
Discover successful local and national initiatives that support healthier environments and healthier people at the Paths to a Healthier Pinellas Conference on Sept. 10-11 at the Largo Cultural Center, 105 Central Park Dr., Largo.
The free conference is for policymakers, food access advocates, elected officials, schools, community-based organizations and health-care professionals as well as those who support healthier communities.
The event is hosted by the Healthy Pinellas Consortium, a group of local organizations and community members collaborating to improve the health of all people in Pinellas County. The group includes local and state government, non-profits, private business, and community advocates.
The conference presenters include Mark Fenton, a national advocate for planning and transportation. In addition to presenting information on creating healthier communities, Fenton will also lead two "walkabouts" in Largo on Sept. 10-11 as part of the conference. These 30-minute walks allow Fenton to point out how simple changes on the route could make the area more walkable.
The conference begins at 1:30 PM on Sept. 10 with Fenton's presentation and concludes that afternoon with the first walkabout. On Sept. 11, the conference opens at 7:30 AM with the second walkabout and opening remarks by Largo Mayor Pat Gerard. There will be breakout sessions in the afternoon with lunch provided on-site and sponsored by WellCare. Sandra Whitehead from Florida Surgeon General John A. Armstrong, MD's Healthiest Weight Florida initiative will close the conference at 4 PM that day.
To register online for one or both days of the conference, go to http://healthypinellas.wordpress.com/.
For information about DOH-Pinellas, go to www.PinellasHealth.com.
For Media Inquiries